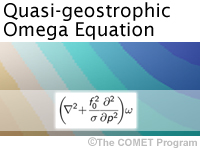 Publish Date: 2014-06-30
Last Updated On: 2014-06-29
Skill Level:

3

Completion Time: 0 - .25 h
Includes Audio: no
Required Plugins: none
Topics:
Other
Overall Rating:

(3 ratings)

Read or add reviews

No quiz for this resource

Share this resource:
2014-09-24: Revised/clarified answers to a few questions. Clarified question wording in others. Updated the back-end data on the phase lag of pi dataset. Revised all of the northern hemisphere vorticity based imagery as the sign should have switched crossing the equator.