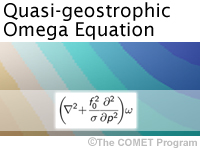 Publish Date: 2014-06-30
Last Updated On: 2014-06-29
Skill Level:

3

Completion Time: 0 - .25 h
Includes Audio: no
Required Plugins: none
Topics:
Other
Overall Rating:

(3 ratings)

Read or add reviews

No quiz for this resource

Share this resource:
Develop an expectation of the vertical motion distribution based on the QG Omega Equation

5 canonical MSLP-Thickness configurations

Apply expectations to different distributions of any of the variables.

Omega to MSLP-Thickness
Vorticity advection to Omega
Thickness/Temp advection to Omega

Apply to real atmospheric cases.
Understand how the theoretical omega will affect the height distribution in the short-term.
Locate on an omega map where precipitation/clouds would be expected.
Identify which cases will cause the surface pattern to intensify or weaken.