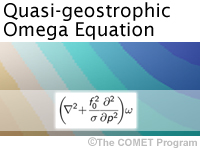 Publish Date: 2014-06-30
Last Updated On: 2014-06-29
Skill Level:

3

Completion Time: 0 - .25 h
Includes Audio: no
Required Plugins: none
Topics:
Other
Overall Rating:

(1 rating)

Read or add reviews

No quiz for this resource

Share this resource:
This learning object/widget is designed for upper-level undergraduates or forecaster interns who want to apply their knowledge of the Quasi-geostrophic Omega Equation to forecast situations. The interactivity helps users see how each variable interacts within the equation and shows data for different phase shifts of 500hPa and 1000hPa heights. Instructors can use this learning object with their own question sets as well to build more understanding and application into their dynamics/synoptic course.