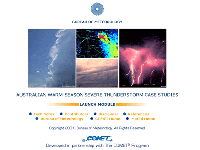 No quiz for this resource

Share this resource:
In this southern hemisphere-focused module, the student can work through a major Australian severe thunderstorm event in detail and examine aspects of two other severe thunderstorm events. Follow a forecast time-line to assess data and make decisions from the pre-storm phase through the warning phase.

This module was developed for and the copyrights are owned by the Bureau of Meteorology Australia.