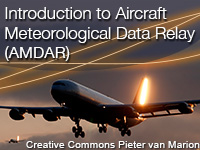 No quiz for this resource

Share this resource:
Introduction to Aircraft Meteorological Data Relay (AMDAR) provides national meteorological services worldwide, airlines, and aviation organizations with information about the World Meteorological Organization (WMO) aircraft-based observing system. The audience includes meteorological service managers and providers, observational development groups, the aviation industry, and others interested in benefiting from an aircraft-based observing system in their region. The content includes interviews with several experts to provide examples of AMDAR use for both meteorological and aviation applications. Additional details about the systems and requirements for implementing AMDAR are also included.