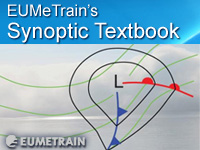 This content is not hosted on MetEd.
No quiz for this resource

Share this resource:
This 190-page text, which is based on a series of university lectures, provides comprehensive information on synoptic meteorology. There's a general introduction to synoptics followed by chapters on tropospheric circulation, air masses, boundary layer and weather, wind fields, jet streams, vertical motions, high and low pressure, convective systems, numerical parameters in vertical cross sections, mid-latitude cyclones, the tropopause, and fronts. A number of the examples in the textbook are from Northern Europe. This resource is made available courtesy of
EUMeTrain
and is not produced, owned or hosted by UCAR/COMET.