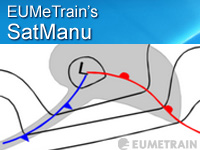 This content is not hosted on MetEd.
No quiz for this resource

Share this resource:
The Manual of Synoptic Satellite Meteorology, or SatManu, provides detailed descriptions of approximately fifty atmospheric conceptual models at different scales from a satellite point of view. Each conceptual model has associated exercises and many have case studies that show how the models can be applied. Most of the case studies were developed for specific training courses in Europe. SatManu also has case studies of catastrophic weather events which are presented from the perspective of the conceptual models. In addition, an introductory chapter describes the different satellite channels. This resource is made available courtesy of
EUMeTrain
and is not produced, owned or hosted by UCAR/COMET.