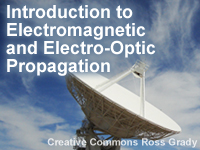 Take the quiz?

Share this resource:
Describe the electromagnetic spectrum.
Identify the visible, infrared (near, middle, far), and radio wave portions
Describe the following effects on atmospheric propagation of EM and EO radiation:
Refraction Scattering Absorption
With respect to refraction of radar waves:
Define refractivity
Describe how N-units and M-units of refractivity are derived
Describe how weather features affect refractivity and result in anomalous propagation, including trapping and ducting.
Define super-, sub-, normal or trapping refractivity.
Describe how refractivity results in normal or anomalous propagation.
Given a vertical profile of refractivity, identify regions of super, sub, normal or trapping propagation.
With respect to propagation of visible light and infrared radiation:
Describe the basic physics of infrared and visible radiation
Define the properties of a "black body"
Describe Planck's law and its derivatives: Stephan-Boltzmann's Law and Wien's Displacement Law.
Describe Lambert's Cosine Law and Kirchoff's Law and their implications for infrared radiation.
Given the environment (aerosol and weather), describe the effects on EO propagation.
Describe the types and causes of scattering and their effect of EO propagation
Describe the factors that affect atmospheric absorption of EO radiation
Describe the different types of contrast (inherent, apparent, threshold)
Describe Beer's Law