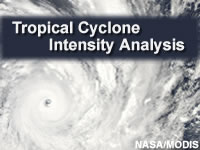 Take the quiz?

Share this resource:
After completing this lesson, the learner will be able to:
Describe the intensity of a circulation and how it is estimated.
Describe the features, strengths and weaknesses of the following methods in determining the intensity of a circulation:
Dvorak Technique
Advanced Dvorak Technique
surface observations
scatterometry
microwave
AMSU
SATCON
Combine and utilize the different intensity methods to determine the intensity of a tropical circulation in a range of situations.