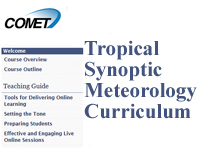 No quiz for this resource

Share this resource:
The Tropical Synoptic Meteorology Curriculum Package is a university-level, online meteorology course package. It is freely available to interested institutions that are expanding their course offerings, particularly their online offerings. The course fulfills the synoptic and mesoscale meteorology requirements for the World Meteorological Organization (WMO) Basic Instruction Package for Meteorology (BIP-M), but with an emphasis on the tropics to provide focus for those working or planning to work in tropical regions. The course utilizes existing and newly developed resources, including the online textbook, Introduction to Tropical Meteorology (http://www.meted.ucar.edu/tropical/textbook_2nd_edition/). The course package includes an instructor's guide and model syllabus with learning objectives, free online instructional resources, introductory slides for faculty use, case examples, questions for review or discussion, student assignments, quizzes, learning activities, and guidance for online course delivery. Materials may also be downloaded for customizing.