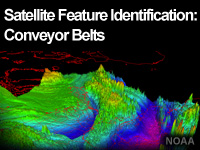 Take the quiz?

Share this resource:
Conveyor belts highlight important atmospheric processes that can be advantageous for making forecasts. They can be used for identifying general temperature patterns, defining the extent of cloud cover, predicting moisture return, evaluating stability, forecasting wind gusts, pinpointing cyclogenesis, and understanding the three-dimensional structure of the atmosphere. For short-term forecasts, they can even augment NWP showing the three-dimensional structure and portraying the same information as equivalent or wet-bulb potential temperature and potential vorticity surfaces. Conveyor belts make representing the total wind easier than using isobaric surfaces which only cut through the processes giving limited, two-dimensional views of the total wind.
In this lesson, learn to identify conveyor belts using water vapour imagery. You'll be able to understand the structure of the conveyor belt's isentropic surfaces from the water vapour imagery and use that knowledge to enhance your forecasting. Further analysis will allow you to break your conveyor belts into branches for even more forecasting ability.
It is highly encouraged that students review the "Deformation Zone Analysis" and "Inferring Three Dimensions from Water Vapour imagery" lessons before attempting this lesson.