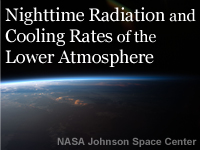 Publish Date: 2013-06-27
Skill Level:

1

Completion Time: .50 - .75 h
Includes Audio: no
Required Plugins: none
Topics:
Other
Overall Rating:

(8 ratings)

Read or add reviews

No quiz for this resource

Share this resource:
It is our common experience to observe that the lowest levels of the atmosphere cool down more slowly on humid nights than on dry nights. When the sky is cloudy we observe the atmosphere to cool even more slowly. Can longwave radiation fluxes alone explain these observations?
This learning object uses a simple interactive model to demonstrate the role of radiation in nighttime cooling. As a learning object, it is meant to supplement other teaching material in a course by elucidating a specific concept. By adjusting the emissivity and temperature of earth and atmospheric layers, the student can derive the role of radiation in nighttime cooling.
A series of questions explore the effects of dry, humid, and cloudy conditions in the lower atmosphere.