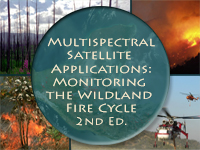 Take the quiz?

Share this resource:
Demonstrate the advantages and limitations of using multi-sensor, multispectral analysis for monitoring the fire cycle.
Describe some of the remote sensing products and systems used for detecting and monitoring the wildland fire cycle. For each product, identify its capabilities, limitations, and applications.
Identify the common thermal emission regions used to detect fires in both polar-orbiting and geostationary satellites.
Identify the capabilities and limitations of geostationary vs. polar-orbiting satellites, shortwave vs. longwave imagery, and true vs. false color products in detecting and monitoring the fire cycle.
Identify the essential steps in automated and semi-automated smoke forecasting.