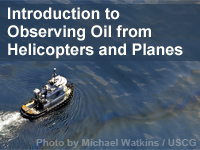 Take the quiz?

Share this resource:
Aircrews and pilots are frequently the first to see oil spills on water. They provide critical eyes in the sky for U.S. Coast Guard (USCG) response teams and NOAA's Office of Response and Restoration. Oil spill responders use a common terminology for describing and reporting oil spills. This lesson teaches aircrews how to identify, describe, and report spills using that terminology. Misidentifying natural events as oil spills is a common, and sometimes expensive, mistake. This lesson also points out common false positives when trying to identify oil spills.
While our primary audience for this lesson is aircrews, other flight crew members may find this lesson useful, including personnel from Incident Management Divisions and the Coast Guard Auxiliary.
In the event that a spill has been reported, pilots and aircrews may find themselves supporting a mission with trained oil spill observers on board. This lesson also provides information on how to work most effectively with those observers to ensure a successful mission.