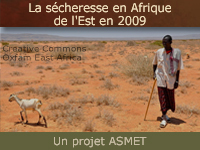 Publish Date: 2012-11-08
Skill Level:

2

Completion Time: 1.00 - 1.25 h
Includes Audio: no
Required Plugins: Flash
Overall Rating:

(2 ratings)

Read or add reviews

Take the quiz?

Share this resource:
Décrire la configuration pluviométrique qui caractérise la Grande Corne de l'Afrique.
Identifier les produits satellitaires et autres, qui sont utiles pour la surveillance et la prévision de la sécheresse dans la GCA.
Décrire les avantages et les limitations de ces produits et les risques d'en tirer de résultats différents.
Utiliser des produits satellitaires et autres pour surveiller et prévoir la sécheresse dans la GCA.
Décrire les indices de végétation et les utiliser pour le suivi de la quantité et de la santé de la végétation.
Utiliser Les images composites RVB microphysique et couleur naturelle MSG pour identifier and surveiller les conditions favorables à l'installation de la sécheresse.
Identifier les phases d'oscillation climatique qui affectent la distribution des précipitations dans la Grande Corne de l'Afrique.
Utiliser les produits de Température de Surface de la Mer pour identifier les phases climatiques susceptibles d'avoir une influence sur la sécheresse dans la GCA.