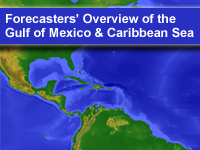 Languages: English
Publish Date: 2013-03-26
Skill Level:

1

Completion Time: 1.50 - 2.00 h
Includes Audio: yes
Required Plugins: Flash
Overall Rating:

(57 ratings)

Read or add reviews

Take the quiz?

Share this resource:
This module provides an introduction to the Gulf of Mexico and Caribbean Sea for weather forecasters. It focuses on major aspects of the geography, oceanography, and climatology. Geography covers major political boundaries, cities, ports, topographical features, rivers, and volcanic areas. Oceanography includes major bathymetric features, mean sea surface temperature and surface salinity, ocean currents, and tidal ranges. Climatology covers the seasonal climatology of jet streams and synoptic weather systems, extratropical cyclones in the Gulf of Mexico, and monthly and seasonal statistics of tropical cyclone activity.