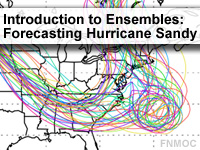 Languages: English
Publish Date: 2013-03-28
Skill Level:

1

Completion Time: 1.50 - 2.00 h
Includes Audio: yes
Required Plugins: none
Overall Rating:

(59 ratings)

Read or add reviews

Take the quiz?

Share this resource:
Describe the difference between deterministic forecasts produced by forecast models and probabilistic forecasts produced by ensemble forecast systems.
Describe and compare the forecast products from each of the ensemble forecast systems above.
Describe the products from both the North American Ensemble Forecast System (NAEFS) and National Unified Operational Prediction Capability (NUOPC).
Explain how the MSC uses ensemble forecasts to automatically generate weather forecasts.
Explain how NCEP ensemble forecast products are developed.
Explain how ensemble forecast products from NCEP, NAEFS, and MSC are bias corrected.
Explain how the UKMO uses ensemble products to create routing forecast products and tracks development of extreme weather events.
Explain how the Navy and Air Force ensemble products can be used to create wind and sea forecasts and support optimum track ship routing.
Describe the verification process and statistics for each ensemble forecast systems above, and compare their strengths and weaknesses.