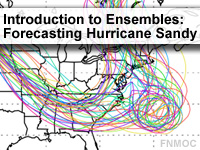 Languages: English
Publish Date: 2013-03-28
Skill Level:

1

Completion Time: 1.50 - 2.00 h
Includes Audio: yes
Required Plugins: none
Overall Rating:

(59 ratings)

Read or add reviews

Take the quiz?

Share this resource:
This module provides an introduction to ensemble forecast systems with an operational case study of Hurricane Sandy. The module concentrates on models from NCEP and FNMOC available to forecasters in the U.S. Navy, including NAEFS (North American Ensemble Forecast System), and NUOPC (National Unified Operational Prediction Capability). Probabilistic forecasts of winds and waves developed from these ensemble forecast systems are applied to a ship transit and coastal resource protection. Lessons integrated in the case study provide information on ensemble statistics, products, bias correction and verification. Additional lessons address multimodel ensembles, extreme events, and automated forecasting.