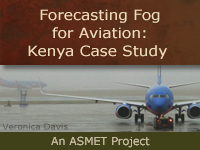 Take the quiz?

Share this resource:
This lesson aims to improve aviation forecasts of fog in the African airspace by teaching forecasters to make more accurate forecasts using satellite imagery, numerical weather prediction, and other available data. A process for diagnosing and forecasting fog is presented and applied to a case over the Nairobi, Kenya region. Learners assume the role of aviation forecaster, analysing various products to determine whether the current Terminal Aerodrome Forecast (TAF) is valid or needs to be amended. The lesson is intended for aviation forecasters, general weather forecasters interested in aviation meteorology, and meteorological forecasting instructors and students.
This lesson is one of three aviation weather case studies developed by the ASMET project to improve aviation forecasting in Africa. They also support COMET's Review of Aeronautical Meteorology – Africa online learning curriculum, which provides training that supports the WMO/ICAO competencies for Aeronautical Meteorological Forecasters.