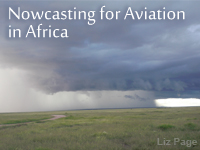 Publish Date: 2013-09-27
Skill Level:

2 '

Completion Time: 1.00 - 1.25 h
Includes Audio: no
Required Plugins: Flash
Reviews:

(0 reviews)

Read or add reviews

Take the quiz?

Share this resource:
Nowcasting for Aviation in Africa summarizes techniques and best practices for developing area-specific forecasts at very short (0-6 hour) timescales. This 1-hour lesson presents a case study focused on interpreting threats and communicating correct warning information for a weather event affecting multiple airports in Gauteng Province, South Africa. In completing the lesson, the learner will assess the state of the atmosphere, develop a nowcast, monitor conditions, and update/create appropriate nowcast products for aviation stakeholders.