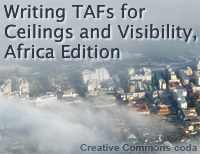 Publish Date: 2013-08-12
Skill Level:

1 '

Completion Time: 1.25 - 1.50 h
Includes Audio: yes
Required Plugins: none
Topics:
Aviation Weather
Reviews:

(0 reviews)

Read or add reviews

Take the quiz?

Share this resource:
Writing TAFs for Ceilings and Visibility, Africa Edition outlines the processes for developing an effective Terminal Aerodrome Forecast (TAF) that meets International Civil Aviation Organization (ICAO) guidelines. Geared specifically to forecasters in Africa, the lesson includes a case study for an event impacting Cape Town International Airport to provide practice applying the processes to real-life forecast situations.