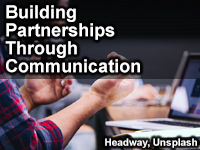 Languages: English
Publish Date: 2020-12-02
Skill Level:

2

Completion Time: .75 - 1.00 h
Includes Audio: no
Required Plugins: AdobeReader
Overall Rating:

(75 ratings)

Read or add reviews

Take the quiz?

Share this resource:
Building partnerships with organizations to support the implementation of Impact-based Forecasting (IBF) Services is critical for the success of the effort. Many organizations have information on the vulnerability and exposure of populations and infrastructure to hazards which will increase the effectiveness of IBF. Some partners may need to be convinced in the utility of IBF and how it may benefit their organization to engage in the effort. This lesson introduces learners to two communication strategies, and offers practice in applying them through several short simulations.