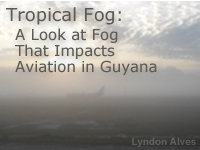 Publish Date: 2013-12-20
Skill Level:

1

Completion Time: .75 - 1.00 h
Includes Audio: no
Required Plugins: none
Overall Rating:

(34 ratings)

Read or add reviews

Take the quiz?

Share this resource:
Objectives:
List the main fog types and explain the processes that lead to the formation of fog for each type.
Suggest which fog types are possible in Guyana's Cheddi Jagan International Airport.
Analyze a representative fog event for the area around the Cheddi Jagan International Airport in Guyana and explain the dominant processes.
Identify trends and features associated with fog evolution in observed data such as weather observations, river temperatures, and satellite products.
Use the local data to analyze and predict local fog evolution.
Suggest atmospheric variables to monitor when forecasting aviation impacts from fog.