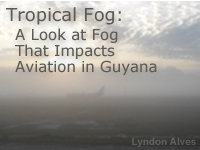 Publish Date: 2013-12-20
Skill Level:

1

Completion Time: .75 - 1.00 h
Includes Audio: no
Required Plugins: none
Overall Rating:

(28 ratings)

Read or add reviews

Take the quiz?

Share this resource:
This module applies concepts covered in the module, Fog: Its Processes and Impacts to Aviation. It examines the fog processes at a tropical location: Guyana. A basic overview of the main fog types is provided, and then a detailed analysis is done for a representative fog event at the Cheddi Jagan International Airport in Guyana. Conclusions are made about fog processes in Guyana which can then be applied to forecasting for aviation impacts.