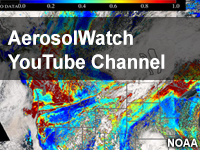 This content is not hosted on MetEd.
Languages: English
Publish Date: 2020-05-18
Skill Level:

1

Completion Time: 1.25 - 1.50 h
Includes Audio: yes
Required Plugins: none
Overall Rating:

(0 ratings)

Read or add reviews

No quiz for this resource

Share this resource:
Describe the basics of satellite remote sensing, including terms like temporal, spatial, and spectral resolution; the difference between geostationary and polar-orbiting satellites; details about NOAA's JPSS and GOES-R satellites; the general capabilities of the VIIRS and ABI sensors; and the general strengths and limitations of satellite products.
Identify where to access JPSS/VIIRS and GOES-R/ABI data files and prepared imagery for aerosol and fire products.
List examples of how NOAA JPSS/VIIRS and GOES-R/ABI aerosol and fire products are used to identify, monitor, and track fires, blowing dust, and pollution events.