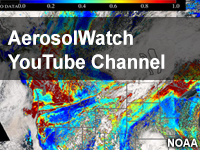 This content is not hosted on MetEd.
Languages: English
Publish Date: 2020-05-18
Skill Level:

1

Completion Time: 1.25 - 1.50 h
Includes Audio: yes
Required Plugins: none
Overall Rating:

(0 ratings)

Read or add reviews

No quiz for this resource

Share this resource:
The AerosolWatch YouTube Channel contains multiple informational videos about Satellite Aerosol & Fire Products. This set of videos is continually being updated with new content about the aerosol and fire products from NOAA's JPSS and GOES-R series of satellites. The training videos provide users an introduction to satellite remote sensing, the JPSS satellites and VIIRS sensor, and the GOES-R satellites and ABI sensor. In-depth videos explain how aerosol products, such as aerosol optical depth (AOD) and the smoke/dust mask, are derived and used for research and operational applications. Instructional videos show users how to access satellite aerosol and fire data files and prepared imagery from NOAA websites. Additionally, the videos demonstrate the use of aerosol and fire satellite products during fire, dust, and pollution events.
The video resources are developed and maintained by the NOAA NESDIS Center for Satellite Applications and Research (STAR) aerosol team and are not produced, owned or hosted by UCAR/COMET.