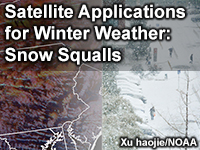 Take the quiz?

Share this resource:
Identify the strengths, limitations and potential synergy of GOES-R and JPSS satellite observations in order to select those products most useful for analyzing and forecasting different components of winter weather specific to a snow squall event.
Describe the benefits of applying high temporal resolution 1-minute rapid scan imaging from the GOES-R satellites.
Interpret products provided by geostationary and polar-orbiting satellites for key elements (as indicated by the quasi-linear convective system (QLCS) snow squall conceptual model) during the evolution of a snow squall weather event.
Synthesize satellite-based winter weather information from new-generation satellite products with other observations and forecast guidance (e.g. conventional surface and upper air observations, radar data, forecast model output).