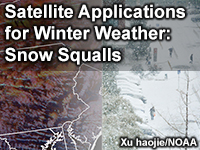 Take the quiz?

Share this resource:
New-generation GOES-R and JPSS satellite products offer improved capabilities for detecting and monitoring some of the more subtle elements of winter weather events, including snow squalls.
In this lesson you will investigate a snow squall case in central Pennsylvania from 18 December 2019. Throughout the lesson you'll be presented with several satellite tools in tandem with observations including radar, sounding, surface, and model data. As you analyze the observations and data, you will be asked to determine how particular satellite products can aid in different aspects of the forecast process, from identification and initial diagnosis, to monitoring the development and evolution of convection associated with snow squalls that occurred on that day.