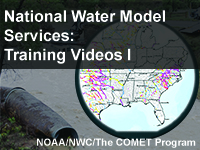 Take the quiz?

Share this resource:
Recognize and describe the services from the National Water Model as of early 2020.
Describe lead time periods available for each service.
Recognize situations for which a service may be very useful.
Explain important processes being represented.
Define bankfull as it is used in the National Water Model
Explain what Annual Exceedance Probability (AEP) is, which service is presented in units of AEP, and AEP's relationship with Average Return Interval (ARI).
Describe current limitations of each service.