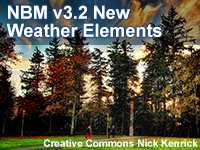 Take the quiz?

Share this resource:
Upon completion of this lesson, the learner should be able to do the following:
Identify at least five new deterministic products in NBM Version 3.2.
Identify at least three new probabilistic products in NBM Version 3.2.
Describe beneficial use of blend products that support the preparation of

Aviation forecasts
Precipitation forecasts
Marine forecasts
Public forecasts.