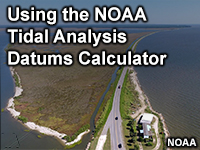 Take the quiz?

Share this resource:
After completing the lesson, the learner will be able to do the following:
Describe what the NOAA tidal analysis datums calculator (TAD) does and how it does it.

Describe the data format read by TAD.
Describe the data requirements (minimum length of record, data gaps).
Describe the processes TAD uses to compute datums (FRED, MMSC, TBYT).
Describe how TAD determines which process to utilize.

Describe the output files computed by TAD.

List the output files.
Describe the contents of the SDC.out file.

Given a properly formatted dataset, determine tidal datums using TAD.