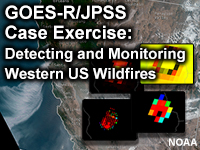 Take the quiz?

Share this resource:
Identify the strengths and weaknesses of new-generation (GOES-R and JPSS) satellite products regarding detection and monitoring of Western US wildfires.
Explain how JPSS satellite products compare with and complement what is available from GOES-R (GOES-East and GOES-West) satellites.
Interpret products provided by geostationary (GOES) and polar-orbiting (JPSS) satellites for major phases of a fire.
Synthesize satellite-based fire intelligence from new-generation satellite products.
Evaluate communication regarding fire intelligence for IDSS partners.