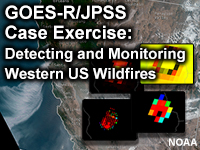 Take the quiz?

Share this resource:
New-generation GOES-R and JPSS satellite products offer improved capabilities for detecting and monitoring wildland fires in the Western US and similar geographic regions. In the case of the northern California Kincade fire of October 2019, satellite monitoring capabilities provided useful tactical information to meteorologists who were working with fire agencies, emergency managers and first responders throughout the life of the fire. Combined with the knowledge on the ground and the tireless work of individuals who were battling the blaze, many people were effectively removed from danger and the impacts of this fire were less significant than they could have been had it not been effectively monitored using an array of tools, including satellite.
In this lesson you'll look closely at two significant points in the life of the Kincade fire. You will apply multiple satellite products that can be useful when monitoring the conditions involving a potentially rapidly spreading fire. To identify how and when satellite information can be most effective, you'll compare different products that can aid meteorologists in identifying fire starts and rapid spread associated with high winds and low relative humidity in the difficult terrain of California.