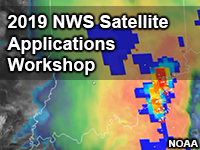 This content is not hosted on MetEd.
No quiz for this resource

Share this resource:
The US National Weather Service (NWS) 2019 Satellite Applications Workshop was held 30 July-1 August 2019 and was co-sponsored by the NWS Operations Proving Ground (OPG), NWS Office of the Chief Learning Officer (OCLO), and the GOES-R and JPSS Programs. The workshop included 12 sessions in which NWS forecasters shared success stories, best practices, and ongoing challenges associated with integrating next-generation satellite products into the operational forecaster's decision-making process.
The recorded sessions are available for viewing and include the following topics:
Heavy Precipitation and Flash Flooding in Mountainous Terrain
Detecting Blowing Snow
Lake Effect Snow and Blizzard Warnings
Mesoanalysis and Storm-Scale Applications
Weather Prediction Center Applications
Ocean Prediction Center Applications
GLM Applications for Lightning Safety
Detecting and Monitoring Volcanic Ash
Wildfire Applications: Warn-on-Detection Fire Warnings
Wildfire Applications: Big Timber Wildfires
Assessing Uncertainty in Convective Operations
Polar Book Club
This resource is hosted on COMET's YouTube Channel.