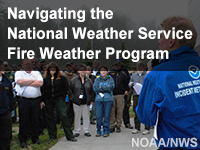 Take the quiz?

Share this resource:
The US National Weather Service (NWS) Fire Weather Program interacts with many government agencies, provides products and services at the national, regional and local levels, and has updated its guidance documents. This lesson provides the latest Fire Weather Program information to new and veteran NWS staff members. It also includes an overview of the organizational structure and responsibilities of each branch, as well as the main policy documents and partners that collaborate and use the program's product and services. The learners will play a Jeopardy-style game and will practice using a process map to resolve various problems at different levels of the Fire Weather Program.
Three distinct audiences will benefit from this lesson:
Newer staff getting exposure to the fire weather program and employees in offices where fire weather is an infrequent threat;
Staff who work in an office where fire weather is a significant and/or frequent concern;
Fire Weather Program Leaders and NWS Managers.
Not all of the learning objectives are directed at each audience, but the background information can possibly aid a range of users in the future.