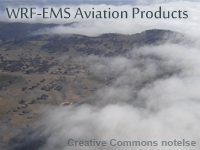 Take the quiz?

Share this resource:
After completing the lesson, you will be able to:
Explain how the visibility and ceiling values of the aviation parameters are calculated.
List the advantages and limitations of the visibility and ceiling parameters provided by the WRF-EMS.
Appropriately use aviation parameters provided in the WRF-EMS to create an aviation forecast (TAF) for fog.