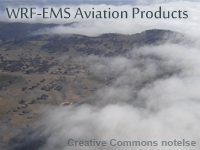 Languages: English
Publish Date: 2013-09-25
Last Updated On: 2012-05-29
Skill Level:

1 '

Completion Time: .50 - .75 h
Includes Audio: no
Required Plugins: none
Reviews:

(0 reviews)

Read or add reviews

Take the quiz?

Share this resource:
This lesson illustrates how numerical guidance from the Weather Research and Forecasting Model - Environmental Modeling System (WRF-EMS) can be added to surface observations, satellite graphics, and conceptual models of important aviation phenomena, to produce TAFs. Specifically, the lesson describes how visibility, cloud ceilings, and the flight categories variables provide values for aviation forecasts in Africa.