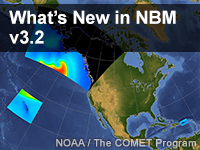 This content is not hosted on MetEd.
No quiz for this resource

Share this resource:
The U.S. National Weather Service (NWS) National Blend of Models (NBM) is scheduled to be upgraded to version 3.2 in November 2019. It includes the first probabilistic blended guidance for temperature, precipitation, snow, and ice. There are more blended forecast products for aviation, marine, water resources, fire weather, winter weather, and tropical weather. Version 3.2 uses more model components to improve guidance, and introduces a new Guam domain.
For a transcript, see What's New in NBM v3.2.
(https://www.meted.ucar.edu/nwp/blend_v32_video/NBM_v32_script.pdf)