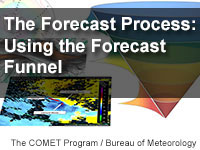 Languages: English
Publish Date: 2019-06-27
Skill Level:

1

Completion Time: 1.50 - 2.00 h
Includes Audio: no
Required Plugins: none
Overall Rating:

(154 ratings)

Read or add reviews

Take the quiz?

Share this resource:
State the goal of weather forecasting.
Describe the elements of the forecast funnel and its use in the forecast process.
Explain the relationship between the forecast funnel and the time pyramid in a forecaster's time management.
Describe how a forecaster uses deterministic and ensemble Numerical Weather Prediction (NWP) models in the forecast process.
Use the forecast funnel to:

Identify significant weather features at each scale using the most relevant observations and NWP model diagnostics.
Relate phenomena at each atmospheric scale to develop conceptual models of the weather.
Match client information needs to the appropriate atmospheric scales in order to clearly communicate that information.
Develop forecast policy using policy maps.