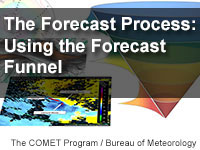 Languages: English
Publish Date: 2019-06-27
Skill Level:

1

Completion Time: 1.50 - 2.00 h
Includes Audio: no
Required Plugins: none
Overall Rating:

(162 ratings)

Read or add reviews

Take the quiz?

Share this resource:
This lesson was developed by meteorologist, Dr. Mick Pope, with sponsorship from the Australian Bureau of Meteorology (BoM). The lesson is a somewhat broad-brush review of the overall forecast process, but with specific application of the forecast funnel approach as used by Australia's Bureau of Meteorology (BoM).
The forecast process components include decision support and communication, use of numerical weather prediction, and applying the forecast funnel approach. The forecast funnel is described in detail, along with the forecaster time pyramid, and it is applied using a BoM forecast policy example.