Special Interest
More on Winter Weather
Winter Weather Distance Learning Course
Improve your winter weather forecasting with a specially tailored suite of COMET modules in the Winter Weather Distance Learning Course. In Part One, improve your mastery of core topics in the field, including microphysics, precipitation type, QPF, and NWP. In Part Two, study advanced topics, including specific wintertime phenomena/case studies and sophisticated techniques for addressing mesoscale precipitation features.
Forecasting in the Far North: NorLatMet Case Study Library

To support training in topics of interest to those in Canada, Alaska, and the northern-tier U.S. states, check out the NorLatMet Case Study Library developed in partnership with the Meteorology Service of Canada. The Library provides a venue for sharing case studies of interest on any aspect of meteorology relating to latitudes poleward of 40ºN.
Satellite Water Vapour Interpretation - Short Course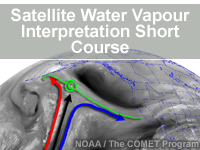 Also developed in conjunction with the Meteorology Service of Canada, this self-paced distance learning course introduces the power of dynamical thinking. This course is also available in French.
Subscriptions
About Our Training Resources
Our training consists of lessons and courses. A lesson is targeted toward one focused subject, whereas a course is a collection of lessons that pertain to a broader subject area. You can receive certificates of completion for both lessons and courses. Courses are entirely self-paced and available for open enrollment. We also list a select set of resources that are not hosted on MetEd that are of high quailty and of interest to our community.
Virtual Classroom
The COMET® Program's virtual classroom provides access to material in support of our residence and virtual courses. These courses are generally available by invitation only and are hosted at our UCAR facility in beautiful Boulder, Colorado.