Special Interest
More on Satellite Meteorology
MetEd offers 12 individual lessons on JPSS satellites, available through the
JPSS Satellites: Capabilities and Applications Course
.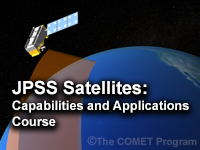 Subscriptions
About Our Training Resources
Our training consists of lessons and courses. A lesson is targeted toward one focused subject, whereas a course is a collection of lessons that pertain to a broader subject area. You can receive certificates of completion for both lessons and courses. Courses are entirely self-paced and available for open enrollment. We also list a select set of resources that are not hosted on MetEd that are of high quailty and of interest to our community.
Virtual Classroom
The COMET® Program's virtual classroom provides access to material in support of our residence and virtual courses. These courses are generally available by invitation only and are hosted at our UCAR facility in beautiful Boulder, Colorado.