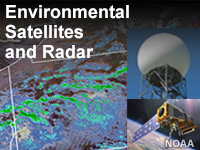 Languages: English
Completion Time: varies
Topics:

Description
This course provides an overview of different remote sensing applications using satellites and radar. The first part of this course covers the basic knowledge needed to understand satellites. Topics covered include atmospheric radiation and the electromagnetic spectrum, Planck's Law, absorption, emissivity, and scattering. The second topic area discusses the various satellites and their instruments such as those onboard the GOES satellites. The final section allows students to review the various products available from the satellites including various satellite bands and channels, lightning products, and other various topics. Some lessons allow students to practice through interactive case studies.
The last portion of this course discusses the basics of radars, how they work, how they can aid forecasters in detecting meteorological phenomenon, and reviews various examples.
Goals and Objectives
Overview
Course Outline
Additional Resources
Course Outline
Remote Sensing Basics
Satellite Orbits and Instruments
Satellite Products
Radar