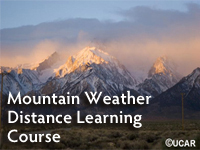 Información de inscripción:
Descripción
This self-paced course discusses the principles of major mountain weather concerns with the aim of improving the prediction of sensible weather in areas with complex terrain.
The course organizes relevant modules and Webcasts on the MetEd Website into three parts: Foundation Topics, Core Topics, and a Case Study.
Objetivos generales y específicos
Course Goal
The goal of this course is to improve forecasters' prediction of sensible weather in areas of complex terrain by preparing them to:
Recognize the potential for key mountain weather phenomena.
Anticipate typical evolution of major mountain weather events.
Apply mesoscale models to these unique conditions using knowledge of their strengths and weaknesses in complex terrain.
Course Objectives
The instructional objective for this course is to provide a review of the following core concepts:
Driving forces influencing flow interaction with topography, including:

Stability
Vertical wind profile
Barrier shape
Diurnal radiation cycle

Application of the Froude number
Aviation hazards in complex terrain, including:
Appropriate application of satellite and NWP products
Mountain-forced phenomena and their impact on sensible weather
Descripción general
Forecasting weather in the vicinity of significant topographic barriers is a difficult challenge. This self-paced distance learning course addresses many of the physical processes induced by mountainous terrain, including: flow interaction with topography and gap flow, mountain valley breezes and downslope windstorms, barrier jets, cold air damming, and some special dynamic and microphysical concerns.
Mountain weather is a complex interaction of synoptic and mesoscale forcing interacting with terrain. To properly anticipate the impact that mountain barriers have on local weather conditions, forecasters need a thorough understanding of mountain-induced phenomena. These self-paced modules, case studies, and lectures discuss many of the significant processes that together are often referred to as mountain weather.
Organización del curso
Otros recursos