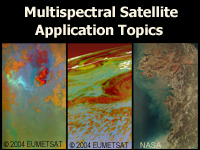 Información de inscripción:
Descripción
This self-paced distance learning course provides forecasters, students, researchers, and other interested learners with a foundation in the products and applications from multispectral satellite observations and various methodologies used to derive multispectral image products.
The four core modules that comprise this course are:
Creating Meteorological Products from Satellite Data
Multispectral Satellite Applications: RGB Products Explained
Imaging with VIIRS: A Convergence of Technologies and Experience, 2nd Edition
Multispectral Satellite Applications:Monitoring the Wildland Fire Cycle
Objetivos generales y específicos
Course Goals
The goals of this multispectral satellite application topics course are to:
Help learners develop or improve their understanding of multispectral imagery and derived products
Show examples of how some multispectral products are derived and their different applications, and
Help learners, especially those involved in day to day operations, improve application and interpretation of multispectral products in everyday meteorological and environmental monitoring and forecasting activities.
Course Objectives
The instructional objective of this course is to enable learners to do the following:
Be able to define what is meant by multispectral observation
Describe the advantages of multispectral observation when compared to single channel observation
Define what an RGB product is, how it is derived, and how the product is related to multispectral observation
Describe several multispectral applications, their advantages and any limitations
Describe how multispectral observation is changing with the new generation of weather and environmental satellites that are coming online
Descripción general
Prerequisite
This course assumes a basic understanding of the interaction between radiation and matter that enables satellites to detect various elements and their properties in the earth-atmosphere system. This background information is essential for understanding the spectral signatures that occur throughout the spectrum, how spectral signatures influence channel selection for designing satellite instruments, and how channel selection relates to the development of multispectral products.
For a review of these concepts, see the COMET module Remote Sensing of Land, Oceans, and Atmosphere with MODIS
Course Overview
The multispectral satellite application topics distance learning course is a series of modules aimed at forecasters, students, researchers and others who have either a need or desire to know more about multispectral image products and their application. The course is intended to help learners develop or improve their understanding of multispectral imagery and products and will show examples of how some products are derived and their applications. The course will help prepare the learner for future exploration and use of multispectral products in meteorological analysis and forecasting, and in other disciplines that involve environmental monitoring and prediction.
To receive a course completion certificate, you must successfully complete a minimum the four core modules plus which collectively may take about 6 to 8 hours to complete.
Organización del curso
Otros recursos
NexSat Web Site: NRL Next-Generation Weather Satellite Demonstration Project http://www.nrlmry.navy.mil/nexsat-bin/nexsat.cgi Presents a variety of near real time single image and multispectral image products from Geo and Leo satellite platforms to demonstrate the potential sensing capabilities of the Visible/Infrared Imager Radiometer Suite (VIIRS) imager. VIIRS was launched on board the Suomi NPP spacecraft in October 2011 and is planned for future JPSS satellites beginning in 2016.
NASA LANCE Rapid Response Web Site
http://lance.nasa.gov/imagery/rapid-response/
Provides daily MODIS single channel and multispectral image products in near real time presented by geographic regions or orbit overpass time. The site also includes a gallery of notable weather and other environmental events.
NASA Earth Observatory Web Site
http://earthobservatory.nasa.gov/Images/ Provides access to multispectral imagery for global events and discoveries related to climate and the environment.
EUMETSAT Near Real-Time RGB Products Web Page
http://oiswww.eumetsat.org/IPPS/html/MSG/RGB/ Provides access to near real time multispectral RGB products from the Meteosat geostationary satellites for a variety of meteorological applications. The site includes product descriptions and online tutorials (referred to as "Interpretation Guides").
RAMMB: RAMSDIS Online – GOES-R Proving Ground Real-time Products
http://rammb.cira.colostate.edu/ramsdis/online/goes-r_proving_ground.asp Provides access to a selection of near real time multispectral satellite products produced to emulate capabilities of the next generation GOES-R satellites.
CIMSS Satellite Blog
http://cimss.ssec.wisc.edu/goes/blog/
A collection of examples of meteorological satellite imagery and products that are available to (or created by) scientists and researchers at NOAA's Cooperative Institute for Meteorological Satellite Studies (CIMSS), located at the University of Wisconsin – Madison's Space Science and Engineering Center (SSEC). Interesting and/or educational satellite images including multispectral images and applications relevant to current weather events are shown and discussed.