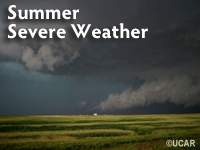 Información de inscripción:
Descripción
This self-paced course discusses the basic principles of warm season convective weather with the aim of improving the prediction of significant and severe convection.
The course organizes relevant modules and Webcasts into two sections: Core Topics and Advanced Topics.
Objetivos generales y específicos
Course Goal
The goal of this course is to improve forecasters' prediction of significant and severe convection by:
Assessing pre-storm environments for (severe) thunderstorm potential
Identifying, assessing, and forecasting (severe) thunderstorms
Course Objectives
The instructional objective for this course is to provide a review of the following core concepts:
Buoyancy
Shear
Interaction of buoyancy and shear
MCS and other severe convective phenomena including; heavy rain, hail, wind, and tornadoes
Descripción general
Summer severe (convective) weather presents many challenges to the forecaster. This self-paced, distance learning course addresses the scientific aspects of a few of those challenges: buoyancy, shear, and their interaction to create various types of summer severe weather phenomena (squall lines, bow echoes, supercells, etc). Summer severe weather is a complex interaction of synoptic and mesoscale forcing. As both mesoscale observations and model resolution improve, the forecaster needs a thorough understanding of this type of high impact weather phenomena in order to react properly during these rapidly evolving situations. These self-paced modules discuss the basic principles of summer severe (convective) weather with the aim of improving the prediction of significant and severe convection.
There are two parts to this course: Core Topics and Advanced Topics. The Core Topics provide reviews of basic convection, including buoyancy and CAPE; understanding wind shear and the interaction of buoyancy and shear. The Advanced Topics include specific summertime mesoscale phenomena/cases and sophisticated techniques that address mesoscale convective features.
Organización del curso
Otros recursos
For Further Study
Anticipating Convective Storm Structure and Evolution - Summary Document
This .pdf file provides a collection of key points on storm structure and dynamics: http://meted.ucar.edu/convectn/mod8sumpag.pdf
SHyMet: Severe Thunderstorm Forecasting Course (off-site link)
Description: This web-based course focuses on integrating satellite interpretation with other datasets in analyzing severe thunderstorm events.
Estimated time to complete: 8.5 h
NWS Storm Prediction Center
This NWS Storm Prediction Center (SPC) (http://www.spc.noaa.gov/exper/mesoanalysis/s3/index2.html) page features numerous technical fields that are commonly used at the SPC to determine the potential for severe thunderstorms and tornadoes. There is a description available for each field/indices found by clicking on the "Overview" located on the left hand side of the page. These fields and parameters aid forecasters in mesoscale forecasting and monitoring of current conditions.