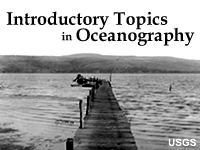 Información de inscripción:
Descripción
This distance learning course provides ocean forecasters with a solid foundation for more advanced study in oceanography. The modules that comprise this course provide introductions to climatology, tides, currents, acoustics, and ocean models.
Objetivos generales y específicos
Course Goal
The goal of this course is to introduce forecasters and other learners to the following:
Properties of ocean tides, currents, and models.
Driving forces of tides and currents and influences that modify them.
Structure of ocean models and how it can influence model results.
Course Objectives
The instructional objective for this course is to provide a review of the following core concepts:
The origin of ocean currents in both the open ocean and in coastal areas
Demonstration of data products
Brief overview of forecast considerations
Origin, characteristics, and prediction of tides
Mechanisms that cause and modify tides
Tide prediction techniques and products
What goes into numerical ocean models, including model physics, coordinate systems, parameterization, initialization, and boundary conditions
Descripción general
This course consists of six modules in their suggested order of completion.
MET 101: Introduction to the World's Oceans provides an overview of the world's oceans, including information about geography, physical properties, major currents, and the effects of oceans on weather and climate.
Climatology for the Operational Forecaster provides information which may be used as guidance for a range of weather-dependent operations.
Introduction to Ocean Tides provides an introduction to the origin, characteristics, and prediction of tides.
Introduction to Ocean Currents discusses the origin of ocean currents in both the open ocean and in coastal areas.
Introduction to Ocean Models discusses how models combine observations and physics to predict the ocean temperature, salinity, and currents.
Introduction to Ocean Acoustics explores ocean acoustics, focusing on the propagation and detection of sound in the marine environment.
You may also wish to explore the Wind and Wave Forecasting Course for more on this topic.
Organización del curso
Otros recursos