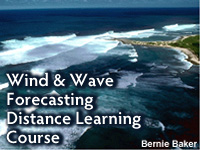 Description
This course is composed of five core topic elements. It begins with a Webcast introducing forecasters to typical marine forecast customers and their wind and wave concerns.
Goals and Objectives
Course Goal
The goal of this course is to provide solid foundation knowledge of wind and wave processes with the aim of improving wind and wave forecasting skill and service to customers in the marine environment.
Course Objectives
This course is intended to build or strengthen the following core skills related to issuing marine forecasts:
Identifying marine customers and their particular forecast needs
Differentiating between seas and swell
Determining wave types and their physical characteristics
Determining wave statistical traits including spectrum and height classifications
Applying an understanding of wind-wave generation processes, including wave growth, in the marine forecast process
Applying an understanding of great circle tracks to wave forecasting
Applying wave nomograms, in situ observations, remote sensing (especially state of the art satellite products), and NWP tools in the wave forecast process
Accounting for swell characteristics and wave group dispersion processes
Identifying the impacts of coastal jets and vertical mixing on wind and wave generation
Highlighting major differences between boundary-layer winds in the marine and over-land environments
Examining seasonal and diurnal vertical stability profile changes and their impact on wind-wave forecasting
Assessing the impact of isallobaric wind effects in a marine environment
Identifying the impacts of severe convection on marine winds
Recognizing known model biases in predicting marine boundary layer winds and what situations require the forecaster to make adjustments
Overview
This self-paced course begins with a Webcast by Troy Nicolini in which he introduces forecasters to typical marine forecast customers and their particular wind and wave concerns. The second module discusses the basic traits of waves and how they change once they become swell. It serves as building block to the subsequent modules on wave generation, propagation, and dispersion. The Wave Life Cycle I: Generation module examines how wind creates waves and the inter-relationships between wind speed, wind duration, and fetch length. Following that module, Wave Life Cycle II: Propagation & Dispersion, teaches marine forecasters to manually predict how wave height and period change as waves leave their generation area, become swell, and then propagate and disperse into coastal waters. The final element of the course is a resource guide primarily intended for experienced forecasters that may be new to marine forecast responsibilities. The guide highlights differences between the marine boundary layer and terrestrial boundary layer winds.
As described, this course organizes relevant materials on the MetEd Website into an organized learning path. By using our Registration & Assessment system, you can track your progress through the course and receive individual module certificates as well as a course completion certificate.
Course Outline
Additional Resources