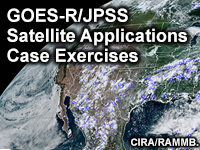 Description
The following case exerices provide scenario-based training to provide learners with practice integrating new geostationary and low-earth orbiting satellite products into forecast applications.

Case exercises are available within the following topic areas: convection and lightning; fire and smoke applications; heavy rain and flooding; and winter weather.
The case exercises are designed to immerse the learner directly into a scenario-based lesson, requiring them to work though questions and interactions associated with forecast challenges related to that event. This design allows the learner to interact, explore, experiment, and analyze the information through an online learning experience in a safe setting, allowing time to evaluate alternatives and consider possibilities.
Goals and Objectives
Overview
Course Outline
Additional Resources