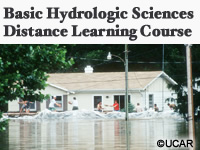 Description
Aimed at those who do not have formal training in hydrology, this course is designed to address the needs of non-hydrologists who work with hydrologic data, particularly in flood forecasting. The course is intended to provide an understanding of the complex interactions between the waters of the land and atmosphere and will prepare the student for further study in this area.
Goals and Objectives
Course Goal
The goal of this course is to provide students with knowledge of basic scientific concepts underlying hydrology and to develop fundamental skills applying key tools and methods of hydrologic forecasting.
Course Objectives
Understand the elements of the hydrologic cycle.
Explain the rainfall runoff process.
Describe the snowmelt runoff process.
Recognize effects of river ice on flood occurrences.
Describe the process of stream-flow routing.
Use a unit hydrograph for forecasting flows.
Apply flash flood guidance taking into account the uncertainties in the product.
Apply an understanding of hydrologic modeling methods currently in use, to interpret model guidance.
Apply statistical methods to assess flood risk
Overview
The course consists of an orientation, eight foundation topics and two case study modules. The orientation provides an overview of all the components of the course. The introductory foundation topic provides a basic background on fundamental concepts in the hydrologic sciences. Other foundation topics focus on specific areas of the hydrologic sciences, covering terminology and assumptions as well as critical processes and considerations for hydrologic forecasters. Case study modules integrate foundation material into realistic forecast situations.
To receive a course completion certificate, you must successfully complete the seven core topics which takes about eight to ten hours.
Special interest foundation topics address hydrologic processes that involve snow and ice, and may also be considered required topics for many regions even though they are not core topics. Related topics are not specifically part of this course but provide important material related to hydrologic forecasting.
Course Outline
Additional Resources